Took some time, but got me a snazzy new computer and I'm now fully up and running!
For the next while I'll no longer be teaching or freelancing, as I've started a HUGE
Top Secret
project which I've only so far spoken to a few people in the industry about (not telling which industry). All I can say is that as much as I can't believe what I've gotten myself into, it's super exciting, and can't wait until I can say more about it (hopefully early in the new year).
In the meantime, I'm going to continue to post up my
Art Jam
pieces, starting next week; because this week, the cover of the
Robotech®: New Generation™ Sourcebook
has been released!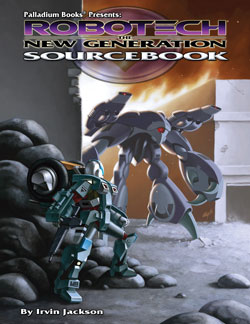 Limited glossy prints are available (other Robotech cover prints are also still available). I'll post up a link soon, or if you're interested, you can send me an e-mail directly.
This cover was a bit of a departure from the rest of the series, so I'd love to hear what you guys think of it!